Celebrating Women in Leadership
Wednesday, March 29, 2023 - 5:00pm

to

Thursday, March 30, 2023 - 12:00pm
Celebrating Women in Leadership
March 29-30, 2023
Holiday Inn - Kearney, NE
Pre-registration is now closed.  Drop by the onsite registration table at the event to join.
NCSA is so excited to host the second Celebrating Women in Leadership event during Women's History Month! Join us and bring along your colleagues and staff for this learning and networking experience intended to celebrate practicing and aspiring female leaders, engage with colleagues around problems of practice, and learn from female leader experiences.
Wednesday, March 29
5:00 p.m. - Dinner and Networking
5:30 p.m. - The Power of Presence with Kristi Hemmer
When Kristi asked women, "What are you known for?" and then, "What do you WANT to be known for?" the response was, "Oh boy!," "I don't know," silence, tears, anger, and shame. And then the two most common responses were "nice" and "hardworking." Of course, we need to get along with others and work hard to be successful, but what is your differentiator? How do you show up unapologetically? Owning your story creates presence, authenticity, and advocacy that carries confidence and leadership along with ambition. Then let's stretch, what do WE want to be known for and how can we use our platform to put more women in power. And keep them there. 
In this interactive, conversation-based experience, you will:
Identify "What do I want to be known for?" 
Write your six-word story to guide you all year (life) long.  
Map out what this means for you and your circle of influence. 
Explore "What do WE want to be known for?" and #bewhatshecansee. 
Create a safe space of belonging to put more women in power.
Be inspired and restored to keep changemaking.
8:30 p.m. - Evening Concludes
Thursday, March 30
8:00 a.m. - Continental Breakfast
8:30 a.m. - Leading with Clarity and Confidence with Kelli Thompson
What would you do if you had a little more confidence? Would you take the next step in your career or education, assume more leadership responsibility, set boundaries, ask for what you want, or even run for office?
Despite having more women than ever in leadership roles today, too many women still experience doubt and imposter syndrome which keep them from confidently pursuing what they truly desire at work and in life. Couple this with the gender gaps and burnout, it's no wonder that so many women are undervaluing themselves and their abilities.
The Leading with Clarity & Confidence workshop will show you how to claim your role as a confident leader by defining your unique leadership style. You'll learn to overcome doubt and amplify your voice so you can make an impact. Participants will leave with practical tools to step into their authentic leadership power and take their bravest next steps at work.
Participants will learn how to lead with more clarity & confidence by:
Recognizing the systemic challenges women face in education today and how to contribute to key decisions.
Owning their unique leadership values so they can stop conforming and start realizing their full potential.
Practicing a model for advocacy so they can ask for what they deserve and make a clear and confident impact in their systems and organizations.
Overcoming doubt and imposter syndrome so they can lead with more confidence and take their bravest next steps at work and home.
11:30 - Event Concludes
Lodging Information
Holiday Inn - Kearney
Call (308) 237-5971
Mention: Celebrating Women in Leadership
Rate: $124.95 + tax
About Our Presenters
Kristi Hemmer
When Kristi Hemmer, M.Ed. was eight years old, she declared she would be President, start her own school, write a book-just like Judy Blume, and circumnavigate the world like Magellan. Today, Kristi is President. Of her own company. She started her own school-Academy for Women's Empowerment. She published Quit Being So Good: Stories of an Unapologetic Woman on International Women's Day, 2021. And indeed she has circumnavigated the world-Kristi has traveled to 67 plus countries solo-including the Strait of Magellan.
As a teacher, counselor, and principal for 20 plus years, her big question is, Why do girls and women shrink in a classroom, a boardroom, a conversation? The expectation for women to be less than, made her mad enough to quit her six-figure job in Tokyo in 2010 and travel the world (living on $20 a day) to figure out what to do about it. In Nicaragua, she learned about social entrepreneurship and was inspired to start her social business (AWE) in 2013.
Her MOXIEmission is to put more women in power, because when women lead retention, morale, innovation, engagement, revenue, and belonging go up. When women are in power, the world is a safer and more equitable space for all.
Kristi has influenced thousands around the world to take up space, unapologetically. Now she wonders, What would be different if YOU took up space, unapologetically? Find out at the Women in Educational Leadership Conference.  
Website: https://kristihemmer.com/
Book: https://kristihemmer.com/quit-being-so-good/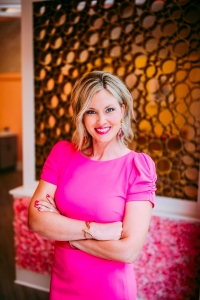 Kelli Thompson
Kelli Thompson is a women's leadership coach and speaker who helps women advance to the rooms where decisions are made. She has coached and trained hundreds of women to trust themselves, lead with more confidence, and create a career they love. She is the founder of the Clarity & Confidence Women's Leadership Program, and a Stevie Award winner for Women in Business—Coach of the Year. She is the author of Closing The Confidence Gap: Boost Your Peace, Your Potential & Your Paycheck.
Kelli holds an MBA, has served as an adjunct management professor, and has more than ten years of senior leadership experience in financial services and technology organizations. Her thought leadership has been featured in Forbes, MarketWatch, Parents Magazine, HuffPost, and FastCompany. Kelli is from Omaha, Nebraska, and her favorite roles are wife to Jason and mom to Hailey.
Website: Kelliraethompson.com
Book: closingtheconfidencegap.com/book
Instagram: @kelliraethompson 
Linkedin: in/kelliraethompson