Making Schools Safer with UV-C Disinfection
Amidst the ongoing pandemic, educators and school leaders continue to work tirelessly and find innovative ways to navigate the new normal. As schools look to reopen and stay open, superintendents and directors of facilities are focused on strengthening disinfection protocols to make classrooms and school facilities safer.
Teachers' and parents' top concern: school disinfection plans
A recent survey revealed that 76% of teachers are worried they might get infected with the coronavirus at work, and 77% of parents are worried their children might get infected at school. And when asked about what public health safeguard was most important, 84% of parents and 90% of teachers indicated daily deep cleaning and sanitizing of school facilities are essential.
In an effort to prevent the spread of COVID-19 and create truly safer environments for students and teachers to return, school leaders are taking steps to enhance disinfection across campuses.
What is UV-C Disinfection?
UV-C is a specific form of ultraviolet light with germicidal properties. It inactivates bacteria, molds and viruses — including SARS-CoV-2, E. coli and influenza — by disrupting the molecular bonds of their DNA and RNA and preventing the ability to infect humans.
UV-C is a clinically tested and proven technology that's been used for over a century to disinfect air, water and surfaces. Mostly notably, it was the key to controlling the spread of Lupus, Tuberculosis and Measles. And for years, UV-C has been the gold standard for keeping viral load down in hospitals, and preventing hospital acquired infections (HAIs). Currently, there are no known UV-C resistant microorganisms on the planet.
Schools turning to UV-C disinfection
In addition to adhering to CDC recommendations, school leaders are looking to the healthcare industry for infection prevention best practices, which includes the use of UV-C technology. Hospitals have some of the highest disinfection standards in the world, and UV-C has been a critical part of their multi-layered approach to reduce the spread of disease for decades. While traditional cleaning and the use of chemical wipes play an important role, studies show that up to 51% of high-touch surfaces are missed when employing manual disinfection alone. UV-C's powerful disinfection properties destroy 99.99% of pathogens on surfaces and air - reaching the areas manual disinfection can miss.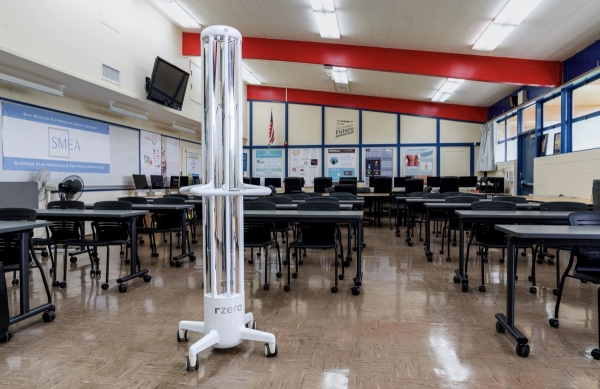 Meet R-Zero Arc: Designed for Hospitals, Innovated for Schools
Focused on designing the most effective and innovative infection prevention technologies, R-Zero is the first biosafety company making hospital-grade UV-C technology financially and operationally accessible to schools.
R-Zero's flagship product, Arc, delivers critical infection prevention capabilities needed to provide safer environments for students, teachers, and staff.
With Arc, school leaders can:
Destroy 99.99% of Viruses in Minutes -- R-Zero Arc was designed to be easy to use by any operator, in every space on campus, destroying over 99.99% of surface and air pathogens in a 1,000 ft room, in just 7 minutes.
Disinfect without Chemicals -- UV-C is a chemical-free disinfection solution, so Arc is eco-friendly and safe to use around food, plants, furniture and electronics.
Gain Visibility into a Historically Invisible Process -- With BLE, LTE-M and GPS connectivity, Arc provides school leaders with an auditable trail of all disinfection activities, for the first time. Data is shown in R-Zero's custom dashboard, enabling organization leaders to track device usage and compliance in real-time, from anywhere in the world.
Save on Labor Costs Associated with Disinfecting -- With less than two minutes of touch time required per cycle, custodial staff can be productive in one classroom while Arc is running in the other. No additional FTEs required.
R-Zero is on a mission to not only help schools reopen safely today, but reduce sick days, long term. Arc is an eligible "disinfection equipment and services" expense under the CARES Act, with both purchase and lease options available.
To learn more about R-Zero's hospital-grade solution for your school or district, visit www.rzero.com or contact sales@rzerosystems.com.