NASES Legislative Advocacy and Leadership Conference
Thursday, February 9, 2023 (All day)

to

Friday, February 10, 2023 (All day)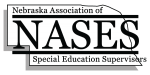 Legislative Advocacy and Leadership Conference


February 9-10, 2023
Cornhusker Marriott - Lincoln
Pre-registration is now closed.  Stop by the registration desk at the event to join.
Tuesday, February 7
10:00  Special Education Legislative Update via Zoom - Dr. Michael Dulaney, Executive Director, NCSA
Join Dr. Mike Dulaney for a virtual legislative update that will provide you details on the landscape of the Legislature and help prepare you for your senator meeting. The Zoom link will be sent to all conference registrants on Monday, February 6.
Thursday, February 9
8:00-11:30 Registration and Work Room
Participants are welcome to check-in at the Cornhusker before and after their senator appointments to work and connect with colleagues and meet with NDE personnel.
8:00  Appointments with Senators
The very best way to influence your State Senator is to meet on his or her turf at the Capitol. Be sure to contact your senator in advance to arrange a short meeting before 11:30 a.m. on February 9.   We encourage you to bring the following to your meeting:
        1.   A student success story...make it real!
        2.  Your District's Targeted Improvement Plan (TIP) showing high expectations for special ed.
        3.  If available, any data showing how you are closing the gap for students with disabilities. 
For a complete list of the 2023 Nebraska Unicameral Legislature, please visit: https://nebraskalegislature.gov/senators/senator_list.php
11:30 Lunch
12:00 Stand for Schools - Dunixi Guereca, Stand for Schools
Stand for Schools will provide current information on school privatization, including discussion of any proposed legislation.
1:00 Roundtables
Attendees will have the opportunity to learn and share on multiple topics:
        o   Working with Systems Involved Youth 
        o   Non-Public School/Homeschool Partnerships
        o   Working with outside providers
        o   Early Childhood Special Education - Compulsory Attendance
        o   Inclusive Education
        o   Supporting Students with Behavior Needs
4:00 NASES General Business Meeting
Friday, February 10
7:30-8:30 New NASES Member 
A leadership hour for new NASES members and their mentors.  To attend: RSVP to Betsy Skelcher, bskelcher@sbps.net, by February 3.
8:00 Conference Breakfast 
8:30 NDE Journey to Inclusion - Nebraska Department of Education
Staff from different areas of the Nebraska Department of Education will discuss guidance and impact of their journey to inclusion.
12:00 Adjourn
Lodging Information
Cornhusker Marriott - Lincoln
Call: (866) 706-7706
or click HERE to book online
Mention: NCSA-NASES Legislative Conference 2023
Rate: $116 + tax
Book by January 18, 2023
All Cancellation requests must be received by Monday, February 6, 2023.