Celebrating Women in Leadership
Wednesday, March 23, 2022 - 5:00pm

to

Thursday, March 24, 2022 - 12:00pm
Celebrating Women in Leadership
March 23-24, 2022
Holiday Inn - Kearney, NE
Online registration is now closed.  Please stop by the onsite registration desk to register.
NCSA is so excited to host the first Celebrating Women in Leadership event during Women's History Month! Join us and bring along your colleagues and staff for this learning and networking experience intended to celebrate practicing and aspiring female leaders, engage with colleagues around problems of practice, and learn from female leader experiences.
Wednesday, March 23
5:00 p.m. - Dinner and Networking
5:30 p.m. - Ignite Your Leadership S.H.I.N.E. with LaVonna RothLeadership is challenging. Leadership during a pandemic is even more challenging. You are dealing with trauma, inconsistencies, demands, impossibilities—the list goes on. No wonder morale and confidence are at an all-time low! What's the solution? Join us for an engaging and experiential time that will enlighten you, inspire you, & give you the tools to rejuvenate YOU and your exhausted staff. It is time to ignite YOUR S.H.I.N.E. and remind you of the leader you are! THIS is the boost you need and deserve!
8:30 p.m. - Evening Concludes
Thursday, March 24
8:00 a.m. - Continental Breakfast
8:30 a.m. - From Confident Girls to Competent Women: New Research & Insights for School Leaders with Lisa Hinkelman
There has been a great deal of attention paid to the 'confidence gap' in women – the idea that women are much more reluctant than their equivalent male counterparts to take a risk, ask for a raise or seek a promotion. How does this lack of confidence impact women's personal and professional development on an individual, group, and systemic basis, and when do these — as well as other challenges with confidence, relationships, body image and pressure — begin for females?
Presenting original research with nearly 11,000 girls across the country, Dr. Lisa Hinkelman will share revealing insights from the recent report, 'The Girls' Index' to illuminate the challenges that face girls during middle and high school. She will discuss how these early experiences impact our perceptions of our abilities and opportunities as well as our personal relationships and professional attainment. Concrete strategies for effective work with female students, and adult women, will be provided.
10:00 - Break
10:15 - Leadership Panel moderated by Sara Paider, NCSA Vice Chair
In this powerful conversation,  inspiring women leaders in education from across the state of Nebraska will discuss their experiences and dive into the impact that female leaders can have on their communities as well as the affect that leadership roles can have on the women who hold them. 
11:30 - Event Concludes
About our Presenters
LaVonna Roth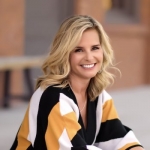 Creator & Founder of Ignite Your S.H.I.N.E.® & CEO of Brain-Powered, LLC
Thousands of educators are exiting the field of education every year, exhausted and burnt out. Frustrated by this crisis that hurts our students, LaVonna set out on a worldwide mission to serve educators, authoring 8 books on brain research and engaging instruction, creating the Ignite Your S.H.I.N.E.® framework, and providing professional development for educators internationally. She has worked with educators in the U.S./Canada, Europe, South America and the Middle East. Her life's passion is to empower educators like YOU to find the greatness within your students and the greatness within yourself so we can radically shift the traditional approach on how to educate in order to best serve our students. As an elementary and secondary educator, keynote speaker, author, consultant and mom, she is here to serve you so you can effectively serve your students through the lens of brain research, social-emotional needs and the whole child!
Lisa Hinkleman

Founder and COE of Ruling Our eXperiences (ROX)
Lisa Hinkelman is an educator, counselor, researcher and author who has spent more than 15 years researching girls and educating professionals as both as a professor at The Ohio State University and as the Founder and CEO of Ruling Our eXperiences (ROX). Lisa is the author of the Amazon #1 Hot New Release, 'Girls Without Limits: Helping Girls Succeed in Relationships, Academics, Careers and Life' and is the lead researcher behind the groundbreaking national survey, 'The Girls' Index™: New Insights Into the Complex World of Today's Girls,' the largest national research survey of its kind. Dr. Hinkelman is a graduate of Chatham College in Pittsburgh, where she earned her degrees in Psychology and Education. She earned her M.A. and Ph.D. in Counselor Education from The Ohio State University.
Lodging Information
Holiday Inn - Kearney
Call (308) 237-5971
Mention: Celebrating Women in Leadership
Rate: $119.95 + tax