Classroom Audio -- Ensuring every student can hear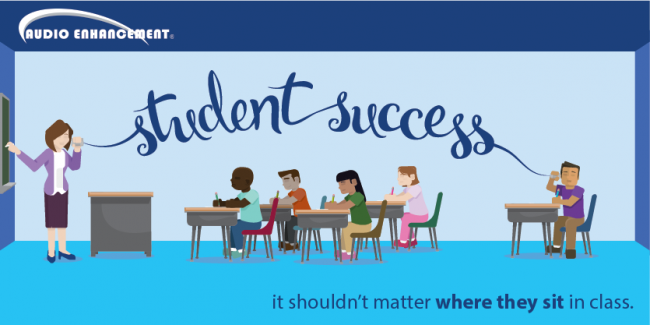 It's pretty safe to say that, if students can't hear the lesson, they can't understand what's being taught. Whether it's the teacher or another student speaking, hearing and understanding the speaker is critical to learning. 
Classrooms are noisy places. Movement from students and teachers, along with devices working, create background noises that teachers have to talk over. Research shows that for students to understand, they need the teacher's voice to be at least 15 decibels (dB) louder than any background noise. Since the average conversational voice is about 65 dB and average classroom background noise is 50 dB, it seems like there shouldn't be a problem, but the further a student sits from the teacher, the less audible their instruction will be.
Some may argue, "That's why teachers have a 'teacher voice.'" The problem is that just using a louder voice can come across as yelling to some students, especially those siting in the front row who already hear just fine. Those louder voices can also have a harsher tone, signaling to some students that the teacher is upset. Speaking loudly is a greater drain on a teacher's energy and stamina, and it can strain their voices. For the sake of student experience and teacher health, a natural, soothing tone is best in the classroom.
One solution to all of these issues is installing an audio system in every classroom to distribute the sounds you want to hear throughout the classroom. A teacher wearing a wireless microphone can speak in their natural voice from anywhere in the room and be heard by every student, no matter where they are sitting. During discussions, students can pass a handheld or tossable microphone, ensuring every voice has a chance to be heard.
Dr. Steve Joel, Superintendent of Lincoln Public Schools, studied different options and chose to install Audio Enhancement Classroom Audio Systems in every classroom in their district.
"After a great deal of study (and a few personal experiences), we made the decision to equip all of our schools with the Audio Enhancement classroom audio systems. Teachers enthusiastically report that the learning environment is richer as all students can now hear clearly and teacher voices are no longer strained. This has significantly improved student engagement and far exceeded our expectations."
–Dr. Steve Joel, Superintendent, Lincoln Public Schools
The benefits of classroom audio systems are teachers with less vocal fatigue, students gaining confidence to speak in front of the class, and improved communication within a class. When every voice can be heard, we open the door to better understanding.
The advantages of reinforced sound in the classroom are many, but improved learning is one of the top benefits.