"Everything was buried under water"
Through flood's devastation, Younes and staff focused on reclamation
By Tyler Dahlgren
The rain kept falling.
As the city of Kearney turned off its lights and the calendar flipped from July 8thto the 9th, the Central Nebraska skies overhead turned dark, closed and refused to open.
One inch of rain turned to two. Two inches of rain turned to three before three relentlessly became five.
When Paul Younes showed up to his sprawling campus of hotels, businesses and convention centers just north of Exit 275 off I-80, the rain had finally moved on and everything seemed to be in order.
The campus, home of the Younes Conference Center and countless conferences and weddings throughout the year, including NCSA's annual Administrators' Days, was bone dry at 7 a.m. The surrounding lake had done its job. It seemed to have held firm, containing the onslaught of a full night of heavy rain.
Younes checked one last time at 7:55 a.m., five minutes before a staff meeting. Still fine.
Fifty minutes later, he received a call. It was an employee. Water had reached the parking lot.
"My God, I said to myself, I was just there 45 minutes ago, how did it happen that fast?" Younes remembers. "I left the meeting with my brother. We drove around the property and assessed what we needed to do."
There were about 200 sandbags already on campus, and Younes set out to purchase 300 more. By the time they returned, the floodwater had reached the Conference Center. By 9:45, it breached the Hampton Inn, and in the span of that hour, the bone-dry campus had been swarmed by two feet of rapidly-rising water.
Fifteen minutes later, Younes and staff made the decision to evacuate the Holiday Inn, with the lobby already under 18 inches of water. The hotel was full the night before, and with two conferences going at the time, there was a total of 500 people in its quarters.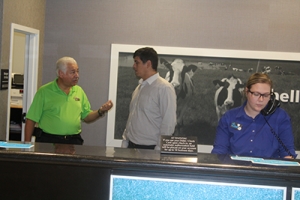 "We had no warning or anything that something like this was going to happen," Younes said.
Just recounting the story seems to be exhausting for Younes. It's an unimaginable tale, especially given the abruptness of it all. He takes a deep breath, and, much like he has for the last two and a half months, puts on a smile and pushes on.
His first call was to the City of Kearney, who immediately sent a loader to help get people out, women and children first. Evacuees were urged to transport their personal belongings to higher ground, the second and third floors.
Airboats arrived to the scene, and with two loaders, hauled five people at a time to dry ground.
"Then the city got us a bus, which was the biggest help," said Younes.
The first bus hauled around 40 people, and was able to trudge through the water. The second one, however, became stuck in about three feet of floodwater on the north side of the campus. A loader was used to push the bus out, and, from that moment on, their most effective form of evacuation was rendered useless.
Game and Parks showed up and used a boat to pull six or seven people out at a time. Shortly after, the Conference Center was evacuated. Then the Comfort Inn and the LaQuinta.
"We were able to get everybody out in about three hours," Younes said. "Myself, my son and daughter, and my wife and two of our employees went around to the hotels to check for employees or anybody that didn't make it out. We were going as fast as we could to make sure everybody was safe."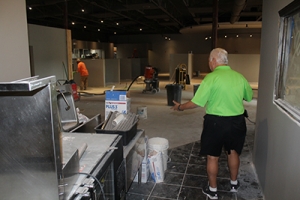 The morning was a blur, but now that some time has passed Younes allows himself to reflect upon, and genuinely appreciate, the selflessness which was put on display.
"It was very impressive to see the staff put themselves second," he said. "Our mission was to take care of the guests. I was part of the staff. Whatever they did, I did. We carried luggage, we carried people, disabled people, people in wheelchairs. We are committed to our customers, to the safety of the children and the women and the men who were here."
By noon, all 15 businesses on campus, somewhere around 365,000 square feet, were blanketed. Power had been lost 90 minutes earlier, and wouldn't return to the Holiday Inn for five weeks.
"It was a shock for us, almost like a bad dream," Younes said. "Everything was buried under water."
Younes, almost immediately, shifted his focus to his customers. Five weddings were slated for that weekend. Administrators' Days and other conferences were right down the road.
"We just tried to find places," he said. "We tried to help the brides."
*****************************************************************************************

To know Paul Younes is to know a friend.
Sit with him for half an hour and it becomes quickly apparent that, for decades, this is a man doing what he was born to do. With a friendly smile that rarely goes anywhere, Younes embodies hospitality.
"Without our customers, we would not be where we are," he said. "Without our employees, we would not be where we are. If somebody tells you differently, then they are wrong."
Younes truly believes this. Even more, talk with anyone who's ever attended an Administrators' Days in Kearney, and they'll tell you, he lives this.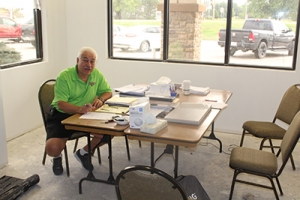 "Paul Younes is one of the greatest men to ever reside in Kearney," Mark Johnson, Principal of Bryant Elementary in Kearney, tweeted. "Honestly to ever reside on Planet Earth. He does so many things to help the community."
It's why he was on the phones that Tuesday afternoon with a handful of anxious brides trying to line up last-minute venues. He did, by the way, helping to move one wedding to the fairground, one to UNK, one to the Archway and another to the Viaero Center.
Younes cherishes relationships, and, during his most trying time, it was those relationships that helped his team endure.
"The city of Kearney did a phenomenal job, from the city manager to the chief of police, the mayor, the fire department and all the rescuers," he said. "The university was phenomenal, too."
Chancellor Doug Kristensen opened the doors to UNK for 56 Younes employees who were living on campus. UNK took care of the employees, Younes said, feeding and boarding them for five weeks until their apartments were restored.
Five Points Bank in Kearney lent his management staff a boardroom to meet in for the next week, with full access to phone lines and internet. The week after that, Younes turned an upper-level suite at the Hampton Inn into an operating office.
The community embraced Younes and his staff, too, scheduling food every single day after the flood for up to 200 people.
"We had no place to go, and the Kearney community came in and supported us," Younes said. "We are very grateful for everybody."
In the last two and a half months, Younes said he lost only 12 employees.
"On the Wednesday (after the flood), we brought everybody in and told them 'We have work for you if you want to continue to work, but, if you're willing to help us, we don't know exactly what that will entail,'" he said.
That's the worst thing about a flood; the never-ending uncertainty. There's manuals for fires, tornadoes, bomb threats and other emergencies, but there was no manual for torrential and overnight downpours leading to a devastating flood.
Nearly 100 employees were brought in Thursday to help with a variety of things. All furniture, air conditioning units, kitchen appliances/equipment and bedding on the first floor of properties were destroyed. Basically, Younes had a monumental mess on his hands.
"It was just like a tornado taking everything from you, and you don't know where you're going to land," he said. "Every day, you wake up with less of a plan than the day before, and then the next day you have another handful of issues come up."
Today is September 16th and Younes tells this story, amazingly, around a table in one of the Younes Center's spacious conference rooms. In the nearby Diamond Ballroom, hundreds gather for the 2019 Thriving Children, Families and Communities Conference.
"We have had a tough couple of months, with another tough three months ahead," he said. "We just try to stay as positive as we can. As a company, we got closer to one another."
The road to recovery is long and daunting, but Younes will undoubtedly travel it with determination and gratefulness. That's just who he is.
"We are excited to have your group (NCSA) and everybody else back," he said, taking a seat in his makeshift office near the entrance of the Holiday Inn. "I think we are going to come back stronger than ever."
Those who know Younes have every reason to believe this to be true.
"We are going to be even better than before."