Who Are You Who Are So Wise in the Science of Teaching?
By Rex Schultze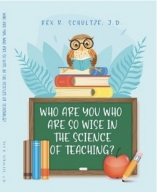 During the four decades with the Perry Law Firm, I have had the opportunity to work with school administrators in our state on a myriad of issues, including the review of teacher evaluations prepared by principals and development of teacher improvement plans for those instructors that are not meeting the school district's "standard of performance", and assisting in the possible non-renewal, termination or in rare cases cancelation of a teacher's contract.  Over the years I have found that there is a perception among teachers (and the too often reality) that school principals do not have the ability or willingness (or both) to effectively train, teach, coach, and evaluate teachers for the purpose of improving teaching and thereby student learning.  In other words, school principals who are to be experts in the "science of teaching" and be able to demonstrate that expertise to their instructional staff.  As a former classroom teacher, I understand the day-to-day challenges in providing quality instruction and assuring student learning is occurring.  I also understand how much teachers need guidance, help, and nurturing, and meaningful feedback both positive and negative through well through written evaluations prepared by a principal that is a "master teacher" in their own right. 
As both a lawyer and educator, I have developed an approach to address this issue and have attempted to set them out in a book.  Enclosed is a complimentary copy of that book entitled "Who Are You Who Are So Wise in the Science of Teaching?"
As stated on the back cover, the book is divided into five parts as follows:  "(1) The necessary "preparation" of the principal to be effective at guiding and coaching their staff, (2) the laying of the "foundation" for their teachers to know the standard of performance expected by the school district as whole, and the specific building where they serve, guide and teach their students; (3) the "teaching" of their instructional staff what constitutes good lesson planning and instruction as defined by the educational model adopted by the school and "art" of teaching under that model; (4) the "skills" for the writing of effective teacher formative and summative evaluations to assist in the improvement of instruction; and, (5) the work required in (1) through (4) above to establish and qualify the principal as an "expert witness" under the Rules of Evidence if he/she is called upon to participate in "the end game" of moving an underperforming teacher along."
From my standpoint as a school attorney, these five "parts" reflect the necessary and needed "foundation" as required under Federal Rule of Evidence Section 702 necessary to qualify a school principal as an expert witness in a personnel hearing.
The book is designed as a step-by-step process with reading assignments and self-instruction tasks at the end of each chapter for the reader to apply the concepts teaching, supporting, and assisting teachers in the "science of teaching" needed to develop, maintain, and excel at their craft.  It is shown scientifically that where teachers know the district's standards of performance, student learning improves, and students learn how to learn – essential in today's ever-changing society.  Being an effective building principal thus requires an "expert"; i.e., that person who is rhetorically asked, "Who are you who are so wise in the science of teaching?"
The book is published in paper back and as an e-book.  I hope you find the book useful a resource and teaching tool for building principals and teaching staff.
Sincerely,
Rex R. Schultze

To order the book from Barnes & Noble: https://www.barnesandnoble.com/w/who-are-you-who-are-so-wise-in-the-science-of-teaching-rex-r-schultze-j-d/1138659203?ean=9781649521668
To order the book from Amazon: https://www.amazon.com/Who-Are-Wise-Science-Teaching/dp/1649521669/ref=sr_1_1?dchild=1&keywords=Who+Are+You+Who+Are+So+Wise+in+the+Science+of+Teaching%3F&qid=1611347985&sr=8-1

Review of the Book
The organization of the book makes a ton of sense. It works from a "foundation" in educational training through the end game of continuation of employment. The parts I truly enjoyed were the anecdotes, both true and fictional, the assignments at the end of each chapter, and the ease of read the book presented.
Whether the stories were actual events or imagined scenarios, I believe it is much easier to apply a learning when put into real-world scenarios. It appeared nearly every chapter had some sort of story attached to apply the content you were trying to convey to the reader. In the first few chapters, when I saw there was homework questions, I chuckled to myself and thought it was a nice touch. As I spent more time reading, however, the questions/requests were applicable and important to deepen learning.  Finally, the way in which the book is written and the language choices make it a quick, easy read. While there are many concepts to contemplate more deeply, one doesn't have to feel the way through the text, causing a much more labored experience.
The only resistance I could see arising from reading this book would be having a lawyer(s) trying to teach educators about education. I found myself, on occasion, bristling at some of the ideas you presented. However, instead of getting emotionally engaged, I tried to look deeper into what you were proposing as positive steps. In the end, it doesn't matter if it was a superintendent, lawyer, or CEO writing this book, the true end game is investing in people and giving each individual time and effort to grow as a professional. The additional angle with legal counsel as the author is not only are these processes effective and valuable, they also help administrators avoid hearings and legal woes, which can be the most damaging experiences personally and professionally.
I truly enjoyed the book and intend to use it for a professional study with our administrative team.
Brandon Lavaley, Superintendent
Wahoo Public Schools
About Rex
Rex Schutlze has been an attorney with the Perry Law Firm in Lincoln for the past 40 years, with an emphasis on representing public school districts from the Omaha metro to the Nebraska Panhandle.  He is also general counsel to Southeast Community College, and the Nebraska School Activities Association (NSAA).  Rex's father was a teacher, an elementary, and a junior high principal from 1960 to 1985 – serving at Benson West and Saunders Elementary Schools as a teacher, and as a Principal at Pershing (now gone), Hartman and ending his career at Beveridge Junior High.  His mother taught at Horace Mann, Nathan Hale, and Burke High School during the same period.  Rex is a graduate of Burke High Schools – Class of 1970.  He attended Kearney State College graduating in 1974 and was hired by OPS to teach and eventually coach girls' basketball at Bryan Senior High School from 1974 to 1978.  He then attended law school at UNL and began working at the Perry Law Firm as a clerk in 1979 - passing the bar and joining the firm in 1981.