State Principals Conference
Thursday, December 10, 2020 (All day)
2020 Nebraska State Principals Conference
Virtual Event
December 10, 2020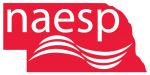 This annual event brings together elementary, middle, and secondary principals from across the state for professional development and networking.  All attendees this year will be mailed an NCSA mask!



Schedule
9:00 a.m., CT     Legislative Forecast and Advocacy 

                          with Dr. Mike Dulaney, NCSA

School district advocacy is one of the more underrated aspects of the position of principal. This session will provide a forecast of what could be coming in the 2021 Nebraska Legislative Session and explore ways in which a principal can effectively promote his or her school district and the issues it faces.

9:35 a.m., CT     Principal's Role Outside the New Title IX Regulations  
                          with Josh Schauer and Haleigh Carlson, Perry Law Firm 
There has been a lot of talk the past few months about the new Title IX regulations.  However, principals played an important role in preventing sexual abuse and harassment in their schools prior to these changes.  In this presentation, attorneys from the Perry Law Firm will discuss how you can best help your District's Title IX Coordinator (or how you can help yourself if you are the Title IX Coordinator), as well as how to identify potential sexual abuse and harassment at the start.


10:40 a.m., CT   Beyond Kale and Pedicures: 10 Tools for Building Resiliency 
                          with Kay Gliddon, Region 3 Behavioral Health Services
Principals pay an emotional price for doing the work that they do. There is now over two decades of research proving that working in high stress, trauma-exposed professions, such as education, carries elements of risk to you and your staff. Using the most recent research in the field, this interactive, evidence-based and trauma-informed presentation will explore assumptions about compassion fatigue, secondary trauma and burnout and offer new creative approaches, resources and ten hands-on tools for building health and resiliency.

11:30 a.m., CT   Awards
Join us to honor this year's NSASSP and NAESP Award winners.

12:15 p.m., CT   Break

12:45 p.m., CT   COVID-19 and You: Key Issues for ALL Principals 
                          with KSB School Law
By December 10, we'll have a new DHM (at least one), more information on possible vaccines, some early rumblings from a would-be President Biden DOE, and possibly an update on whether FFCRA leave will be extended, among many other moving parts. As you can tell, COVID-19 makes it hard to plan a conference presentation focusing on the pandemic, too! Here's what we can promise. The crew from KSB will discuss the most recent trends, updates, and new hot topics related to COVID-19 that are applicable and useful for all principals. There will be plenty of time for Q&A, as well, so tune in for some legal updates and get your COVID questions answered!


1:50 p.m, CT      Social Emotional & Behavior Supports for All
                          with Tessa Fraass and Dr. Laura Barrett, NEMTSS
Now more than ever, principals are being called upon to find ways to meet the social, emotional and behavioral needs within their schools. Join us to learn practical evidence-based strategies for providing social emotional learning tiered support for yourself, your staff, and your students.

*All Cancellation requests must be received no later than Monday, December 7, 2020.